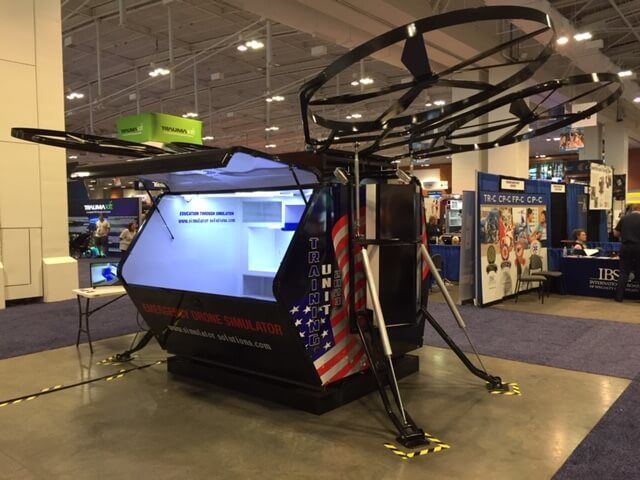 Recognizing EMS drones will play a vital future role in pre-hospital patient care and transport, Simulator Solutions is proud to bring to market the first ambulance drone training simulator. Using the latest technology to build the best classroom available, this innovative training device is designed to involve students in a hands-on learning experience, while giving them a window into the future of the industry.
Drones are compact, lightweight, efficient, closed rotor vessels that can safely land on and take off from tight spaces. Coupled with a component design that will let your company change out the pods from an ambulance to firefighter delivery systems or rescue extractions, makes it a versatile and cost-effective choice for first responders. As the recipient of the EMS World Innovator's Award for its patented classroom ambulance simulator design, Simulator Solutions has a reputation for creative, cutting-edge designs to ensure the most progressive learning environment possible.
Quality in design, engineering, materials, and manufacturing sets Simulator Solutions apart. Let us help you build your future EMS Training classroom with a simulation that will last for years to come.


Our relentless innovation drives your realistic and effective training.
"It's such a rewarding experience to be able to practice EMS skills and gain ambulance familiarity in a simulator that is built so true to life. Nowhere else could you find such a phenomenal replica in order to practice things like lifting and moving the cot, maneuvering around in the tight patient compartment, or initializing treatments in the back of what feels like an actual ambulance. To make it even better, you can replicate bumps in the road with how much it tilts and rocks around! From the countertops to the cabinets to the emergency lights to the seating arrangements, it is so close to the real thing, almost wouldn't know the difference from the inside."
– Marshall Richardson, Sim Tech
FOR MORE INFORMATION OR TO GET A QUOTE