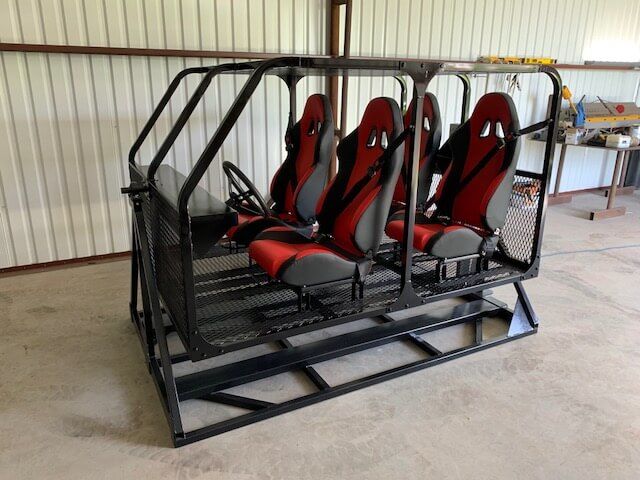 Simulator Solutions, LLC., is proud to unveil our latest innovative invention, the Rollover Simulator. True to our dedication to provide durable, long-lasting simulators, the rollover is constructed using a modular welded steel design making it easy to install in a classroom setting.
The instructor is able to stage the rollover at any point within a 360-degree radius, it can be used on its side, upside down, or anywhere in between. The brake ensures stability as the students work through their scenarios. Mannequins can be placed on each of the four provided seats within the simulator and will allow students to gain practical experience in situations regarding vehicles.
Delivering emergency medical care, extrication, clearing airways, and putting a patient on a backboard becomes a different scope if they are suspended above the EMT. Realizing the value of creating a simulator to duplicate this scenario, we included four seats and a steering wheel in our design, so the students are forced to deal with multiple people/injuries at a time.
Simulator Solutions exists to help train your students to save lives through creating real-life training scenario experiences. Combining your quality instruction with our customized, state-of-the-art simulators will enable your students to perform their best when seconds count. We infuse the latest technology into every facet of our award-winning, patented classroom and mobile simulators, and our patent-pending rollover simulators.
Contact us today at 325-220-0321 to discuss the best Simulator Solutions for your training needs. Don't just educate, simulate!


Our relentless innovation drives your realistic and effective training.
"It's such a rewarding experience to be able to practice EMS skills and gain ambulance familiarity in a simulator that is built so true to life. Nowhere else could you find such a phenomenal replica in order to practice things like lifting and moving the cot, maneuvering around in the tight patient compartment, or initializing treatments in the back of what feels like an actual ambulance. To make it even better, you can replicate bumps in the road with how much it tilts and rocks around! From the countertops to the cabinets to the emergency lights to the seating arrangements, it is so close to the real thing, almost wouldn't know the difference from the inside."
– Marshall Richardson, Sim Tech
FOR MORE INFORMATION OR TO GET A QUOTE